E-reservation
Are you sure you want to add the item to the booking cart?
Unit

RD14

Layout

5+kk

Number of floors (except ground)

2

Floor area

216,7 M2

Total land area

469,3 M2

Orientation

JZ, SV

To move in

1Q/2022

Price incl. VAT

vzorový dům

Condition

Oral reservation
Rooms

Hall (14.0.01)

2,9 M2

Garage (14.0.02)

31,9 M2

Utility room (14.0.03)

6,9 M2

Stock (14.0.04)

10,7 M2

Stair (14.0.05)

4,0 M2

Lobby (14.1.01)

7,2 M2

Hall (14.1.02)

4,1 M2

Workroom (14.1.03)

11,0 M2

Room with kitchenette (14.1.04)

42,0 M2

Toilet (14.1.05)

1,7 M2

Stair (14.1.06)

4,6 M2

Hall (14.2.01)

5,7 M2

Hall (14.2.02)

6,7 M2

Room (14.2.03)

12,3 M2

Room (14.2.04)

17,6 M2

Room (14.2.05)

20,9 M2

Bathroom + toilet (14.2.06)

5,2 M2

Bathroom + toilet (14.2.07)

5,3 M2

Stair (14.2.08)

2,3 M2

Living area of the house

203,0 M2

Accessories

3,0 M2

9,3 M2

Vertical construction

13,7 M2

House area

Living area of the apartment

203,0 M2

Floor area of the apartment

216,7 M2

Undeveloped area

363,0 M2
Cellars, parking
and apartment standards
An example of the standards you can expect in a concept: air handling unit with recuperation, underfloor heating, preparation for intelligent home control, gypsum plaster, security class 3 entrance door, interior residential half-slotted door with an above-standard height of 2100 mm, 180 mm thick thermal insulation optical data distribution, above-standard furnishing items from the Swiss brand Laufen, tiles and paving of the Roca brand, wooden glued floors, preparation for installing blinds except the northern facades, preparation for installing air conditioning units in apartments on the highest floors, etc.
The cellars for the residential part of the project are located on the underground floors, and are not included in the price of the apartment. Garage parking spaces can be purchased together with the apartment, and are not included in its price. In the case of selected apartments, a garage parking space must be purchased separately. The prices of garage parking spaces start at 459,800 CZK including VAT.
L
Living Brâník
Clever Living @Braník, or in short Bydlení Brâník [Brâník Homes], is a new residential complex which is sensitively set in the locality of Braník, Prague. The individual apartment buildings in the complex have a maximum of 5 aboveground floors. Every apartment is euipped with a balcony or terrace. They complement the family homes, which are designed for the most demanding clientele.
Thanks to the well thought-out Trigema Clever Living concept, the project offers many advantages – for example triple glazed windows, complexly designed apartment layouts and underfloor heating. Parking is provided in underground garages, or directly on the surface.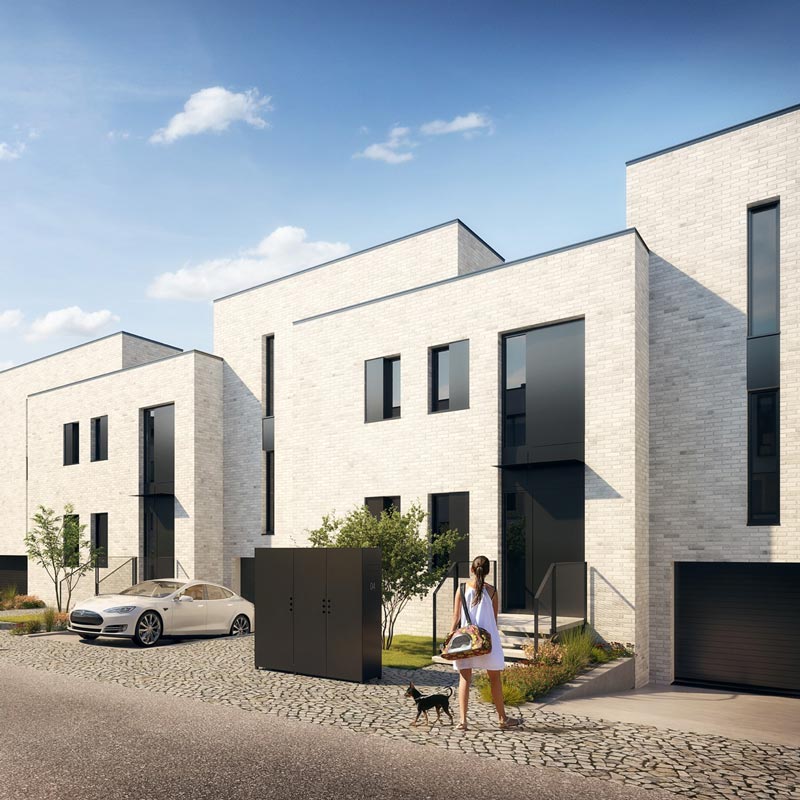 The layouts of these houses will be particularly appreciated by active families. Thanks to all the activities on offer, you don't even have to leave Braník.
Braník belongs among the parts of Prague which on the one hand have preserved their distinctive character, but at the same time offer much that is new and inspirational. What's more, from here you can quickly reach the city centre or travel beyond its borders. Braník is a synonym for an independent Prague suburb, with a mix of many picturesque characteristics of a large city and small town district alike. The narrow streets, paved with historical paving stones, are lined with low bungalows and one-storey houses, often filled with traditional trades and restaurants. What's more, Braník is also characterised by large-scale villa development, with breathtaking views of the entire city of Prague.
On the other hand, Braník is a focal point for active families and lovers of a modern lifestyle. Even without your own transport, it's possible to reach more than 20 sports and recreational facilities from here. Within 20 minutes' walk! Feel like running or cycling, both activities so characteristic of modern times? The new project is directly adjacent to Prague's right cycling and running artery.
Sales centre
Trigema Projekt Nusle s.r.o.
member of Group Trigema
ID: 080 05 745
entered in the Commercial Register maintained by the Municipal Court
in Prague, file number C, insert 310334

Explora Business Centre - Jupiter building
Bucharova 2641/14,
158 00 Prague 5

Opening hours
Mo - Fr: 8:00-17:00
Saturday: By telephone appointment.

We recommend you arrange a meeting in advance, thus avoiding waiting if all of our salespeople are occupied.
Procedure of purchase and conclusion of the Reservation Agreement, explanation of terms and information for consumers
Apprise:
Next
All information and data including visualisations given on this page are only informative in nature. Visualisations, graphical representations and content descriptions are not a precise model for implementation of the construction of the project or apartments and only represent a rough representation which may be subject to change in future.
The sole binding basis for implementation of construction is the contractual documentation. Information displayed on this page does not represent a proposal for concluding a contract. Provision of the products or services detailed is subject to meeting other terms and conditions which we will be happy to inform you of in our sales centre.
The floor area of apartments is calculated in accordance with legislation in force (Government Regulation No. 366/2013 Coll.). The total price includes the price for the apartment and unless otherwise stated the price for cellar storage spaces and where relevant the price for gardens, terraces or balconies including the VAT rate applicable on the day of sale. The apartment price does not include the garage price. Mortgage repayment calculations are purely indicative.
Kitchen units, electrical appliances, furniture and home furnishings displayed in illustrative apartment floor-plans are not included in the apartment price. The location of furniture is purely illustrative. The dimensions of individual rooms are taken from the design documents.
If a consumer dispute arises in future between the purchaser and the vendor, the out-of-court settlement of such disputes is mandated to the Czech Trade Inspection Authority ( www.coi.cz).